YARRAM PARK PERFORMANCE GENETICS SALE
YARRAM PARK PERFORMANCE RAMS
Our Annual Ram Sale at the Hamilton Showgrounds was a very successful and enjoyable sunny day. Our top price Ram made $3,200 and was sold to Maddy Goldsworthy and Trent Williamson from Mortlake. (pic below supplied by Stock and Land)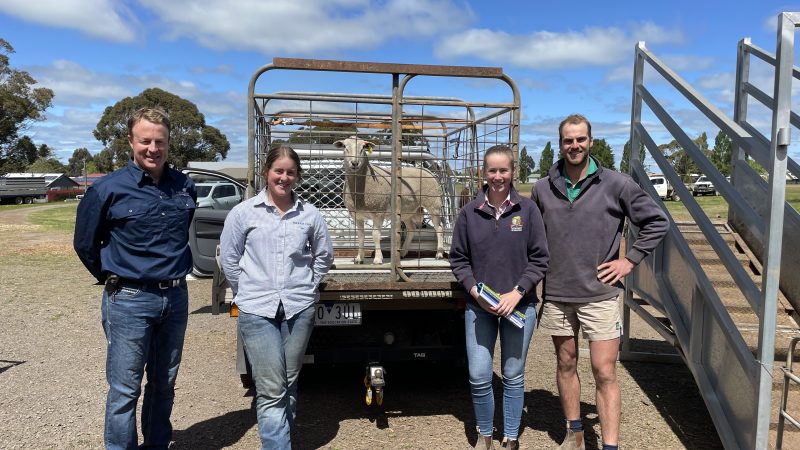 The stud is run under strictly commercial conditions. We aim to produce very sound well-structured rams with excellent constitution and doing ability. High fertility of both ewes and rams is of paramount importance, and we select heavily in regard to these traits.
Running the stud rams under our intensive commercial conditions without any supplementation gives us an accurate reflection of each individual's doing ability and fertility, and what you see is what you will truly get.
All sale rams are run and managed from weaning to sale day in large contemporary groups of over 250 head, to challenge constitution, structure and performance.
Sire lines are not only progeny tested annually throughout our own large commercial flock, but are also fertility tested in big commercial joining groups under realistic and extensive conditions.
The formation of the 1,400 strong breeding flock originated after Mt. Elephant was approached to carry some of the very first embryo work to come to Australia from New Zealand. This formed the basis of the stud, to which a number of breeds have been infused successfully to establish the current composite flock.
When Mt. Elephant Station was sold in 2010, the stud ewes were relocated to Yarram Park. Following the increasing demand in 2014 for Southie Terminal rams, we purchased the high performance Point Vale Southdown stud in 2015. This enabled us to fast track our terminal breeding expansion, with an additional 350 breeding ewes coming into our program. We are now confident we sit in a very strong position to supply larger lines of high performance Southdown composites to the market place as terminal sires.
We had a rewarding sale season in 2022, marketing nearly 320 rams to existing and new clients in Victoria, South Australia, NSW, and Tasmania. We thank all those who supported our program so enthusiastically, and look forward to continuing a close association with you all. Feedback from several clients highlighted the excellent fertility in both our Maternal and Terminal ram program, with several flocks scanning up to 180% to ewes joined.   
The 2023 sale rams have come through a challenging wet spring & summer continuing through to a cold & wet autumn period, however have developed and grown out well.  With a large genetic pool to draw from our big stud ewe base, we are able to carefully select and manage a sale team that is a very even line of sound, fertile and well grown rams ready to work.
We offer a classing and advisory service to any clients looking for assistance with their breeding program, and also provide free transport to property, for rams purchased at the annual production sale.
Regards, Yarram Park team